Posted by Will on 17th Mar 2023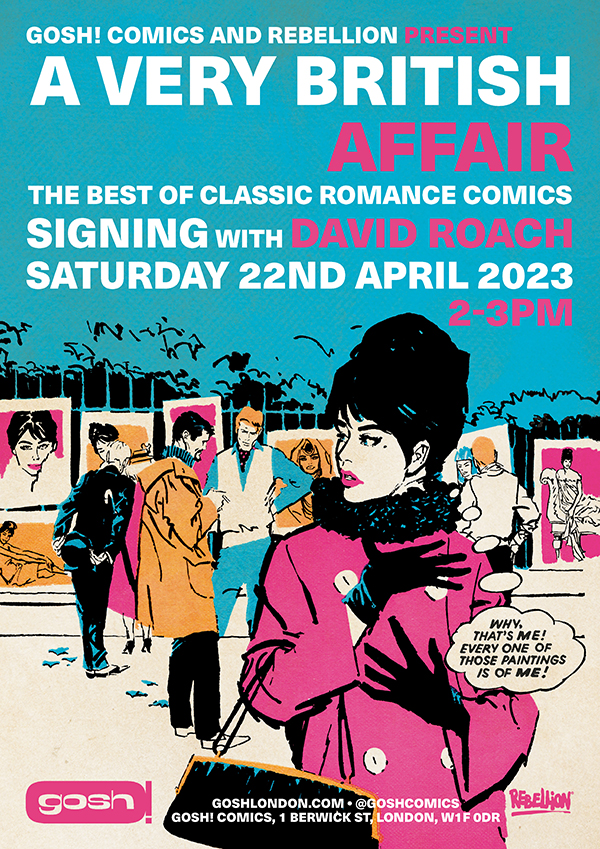 Fancy a bit of Romance in your life? We here at Gosh! want that for you! That's why on the Saturday 22nd April 2023, we've asked Comics historian David Roach in to sign copies of his latest opus, A Very British Affair, a collection of British romance comics from the haydey of UK weekly comics. David will be here from 2-3pm. Here's what publishers, Rebellion, have to say about this love-sick tome:

Curated by Eisner-nominated historian and artist David Roach, A Very British Affair charts the stratospheric rise of romance comics in post-war Britain with a selection of the greatest romance comics ever printed in the UK. Featuring an eclectic mix of artists from Spain, Italy, and the UK, this collection unearths the sensual art and emotional writing which delighted generations of comics readers. Featuring over 50 comics stories – many of which have never been reprinted before.

David is signing copies of A Very British Affair on Saturday 22nd April, from 2-3pm. If you can't make the event, there will be signed copies of the book available to pre-order, for collection or mail order, on our website here.

Keep up to date with any updates over on our Facebook event page.