Posted by Andrew on 4th May 2022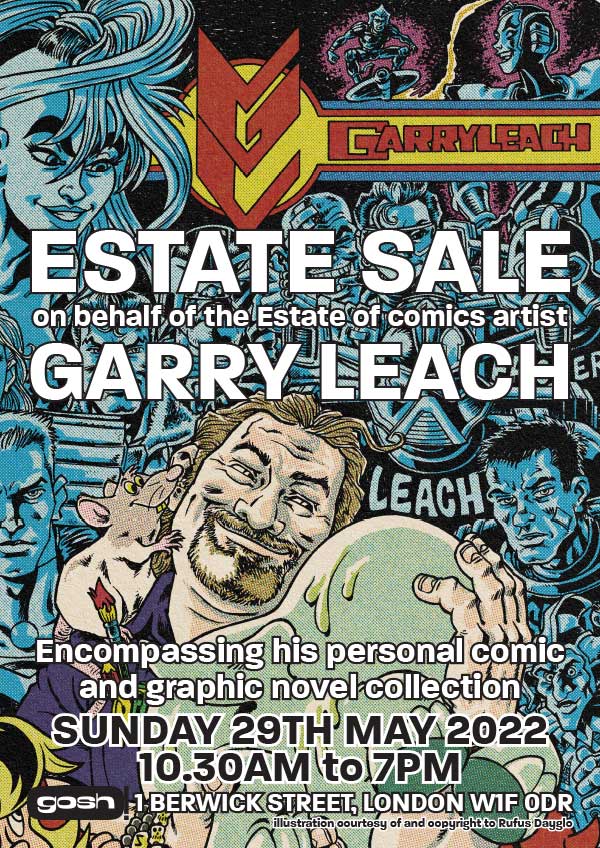 As most of you will be aware, in March legendary artist Garry Leach passed away. Garry was one of UK comics' most singular talents, and was much beloved by the comics community at large. From his earliest days in the pages of 2000AD, through his co-creation of the reimagined Marvelman, and onto a career in commercial illustration and occasional comics work, Garry imbued everything he did with his wry (often enjoyably filthy) humour and warm personality.
He was also the creator of the original Gosh! logo, which he kindly designed gratis in the dim distant past of 1986. Just one example of his generosity of spirit: he was a friend and mentor to many, and will be greatly missed.
A voracious comics fan, over the years Garry amassed a huge collection of books and comics. On Sunday May 29th, we will be hosting a special one-day Estate Sale of Garry's collection to help raise money for his Estate. From 10.30am - 7.00pm our tables upstairs will be turned over to Garry's collection, and we would like to invite everyone to attend, whether you knew Garry and would like to have an item to remember him by and make some fiancial contribution in his memory, or would like the opportunity to own some of the rare and well-loved items from the collection of a man who really knew his comics onions.
Please note that the aim of this sale is to provide the best financial boon to his Estate that we can facilitate. Prices will be as marked, and we will not be discounting on purchases from the collection.
You can keep up to date with any announcements or news on the Facebook event page.