Posted by Will on 18th Mar 2023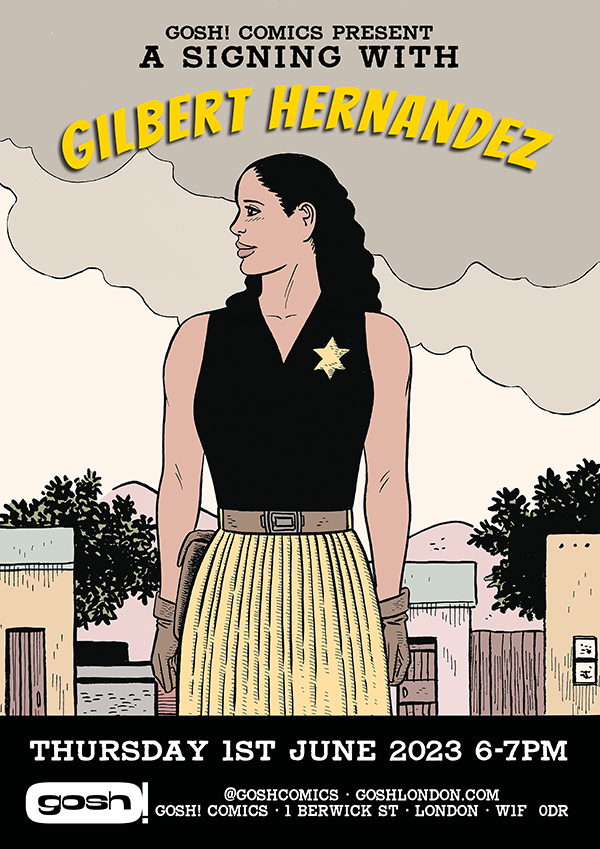 Love and Rockets is a part of Gosh!'s D.N.A. The monumental series by Los Bros Hernandez has been running for forty years, only three years longer than we've been selling it! This is why we are excited to announce a signing with Gilbert Hernandez on Thursday 1st June 2023, from 6-7pm.

A Hernandez brother reaching these shores is not a regular occurrence so don't miss out on this opportunity to meet one of the greatest cartoonists of our generation. Gilbert is the creator of the fictional rural Latin American town of Palomar, where modern technology and rampant consumerism have yet to reach—or even phone lines. The focus of the Palomar stories was always the characters, and as Love and Rockets popularity grew so did the scope Gilberts narrative universe, from the interpersonal domestic dramas of his cast, to serial killers and even adaptations of B-Movies starring Palomar's favourite daughter, Luba. More recently outside of Love and Rockets Gilbert has produced numerous stand alone titles, BumperHead, Julio's Day, Scarlet by Starlight and his ultimate exegesis of id and animus, the heta-uma like Blubber (not for the faint hearted)!
Here's what publisher, Fantagraphics, say about Love and Rockets:

In 1982, Fantagraphics Books published the first issue of Love and Rockets by the Hernandez brothers (Gilbert, Jaime, and Mario), and the series has since gone on to become the publisher's flagship title, a monumental work of graphic fiction. Collected under the umbrella of L&R, the series is comprised of two separate ongoing stories: Gilbert chronicles the colorful inhabitants of the fictional Latin American town of Palomar, while Jaime follows Latinx friends and sometime lovers Maggie and Hopey and their circle of friends in the punk scene of the fictional Californian town Hoppers. Over the course of L&R's multi-decade run, its characters have aged in real time, lending these stories a depth and weight that few literary works achieve. The Hernandez brothers continue to release new issues of Love and Rockets.

And on Blubber:

The great Gilbert Hernandez's unfettered Id unleashed! Absurd, explicit, and profanely funny, Blubber makes all other comics blush.

Drawn from the first five issues of Gilbert Hernandez's comic book series Blubber, an absurdly X-rated showcase for the most surreally transgressive of Hernandez's short stories, weirdos (Blubberoo, Mr. Elvis, John Dick, the Mentor), creatures (the Mau Guag, Doogs, and Orlats…), and anthropomorphs (the Cloarks, the Kekeppy) visit places where most comics fear to go. Blubber veers between an absurdist satire of porn (and occasionally nature documentaries) and a celebration of unbridled hedonism, serving as a defiant provocation to those unable to appreciate the difference between cartooning and obscenity. As R. Crumb said, "It's only lines on paper, folks!" It is also a howlingly funny book, filled with a rogues gallery of colorful comic book monsters (the Pollum, the Junipero Molestat, the mythical Forest Nimmy) and characters (T.A.C. Man, Mr. Hippy, Padre Puto, the Snowman, Baron Mungo, Red Tempest) that echoes the sheer visual imagination of Jack Kirby.

We're going to have an exclusive print straight from the covers of Blubber and signed by Gilbert too! We'll have Gilbert here on Thursday 1st June, from 6-7pm. You'll be able to pre-order a signed copy of this print from our website for mail order or for collection by following the link here.

Keep up to date with any updates over on our Facebook event page.