Posted by Will on 6th Jan 2023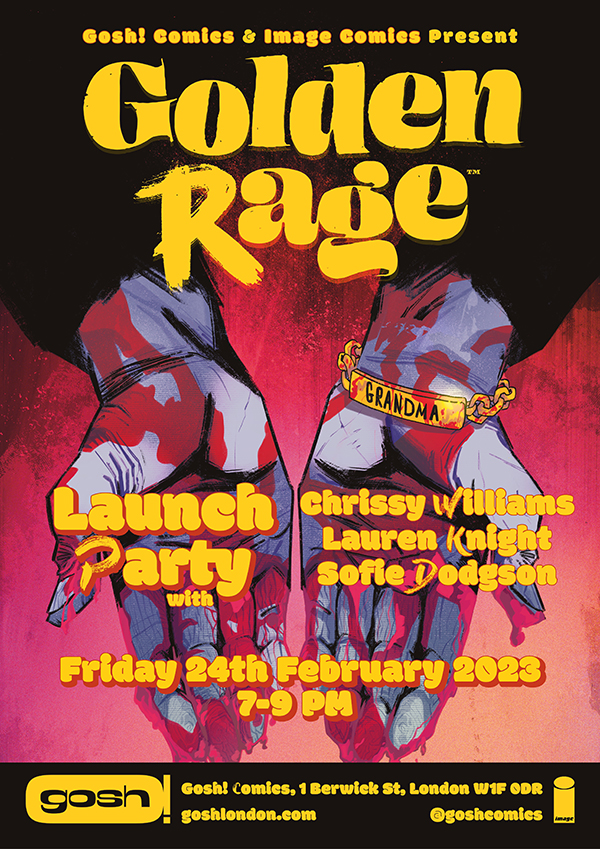 Back in 2022, we celebrated the release of Golden Rage's first issue hosting a signing with writer Chrissy Williams and colourist Sofie Dodgson. This fantastic mini-series has now finished and we're happy to welcome back the team, this time with artist Lauren Knight, for the launch party of the collected edition on Friday 24th February 2023 from 7-9pm.

Acclaimed poet and editor for Wicked & Divine releases her comics writing debut, which pits elderly women against each other, along with artist Lauren Knight (Buffy the Vampire Slayer), colourist Sofie Dodgson (Tank Girl) and letterer Becca Carey. These four have united to form the perfect team for this tender granny-on-granny brawl. Here's the evelvator pitch from publisher Image Comics:

Older women have been deemed useless to society and abandoned on a remote island, where they must fight to the death, whilst making friends and dessert. Welcome to GOLDEN RAGE: a not-too-distant dystopia where Battle Royale meets The Golden Girls. Perfect for readers who enjoyed Deanna Raybourn's Killers of a Certain Age and Helene Tursten's An Elderly Woman Is Up to No Good.

Join Chrissy, Lauren and Sofie for the launch party of Golden Rage on Friday 24th February 2023 from 7-9pm. You can pre-order a signed copy of the comic on our website here.

Keep up to date with any updates over on our Facebook Event Page.