Posted by Andrew on 18th Jul 2022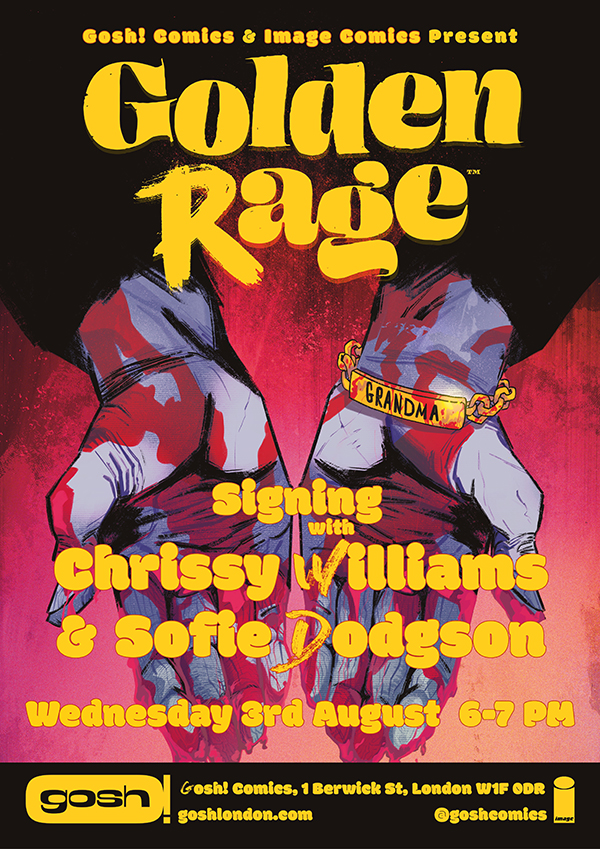 Acclaimed poet and editor Chrissy Williams and colourist Sofie Dodgson will be here to sign copies of their new series, Golden Rage, on Wednesday 3rd August, 6-7pm. We'll have a lovely stack of the first issue, so there's no excuse for you to miss out!
Perhaps best known in the comics world as the longtime editor on The Wicked + The Divine, Chrissy also edited the excellent Over the Line: An Introduction to Poetry Comics. Outside of the comics world, her debut poetry collection Bear was selected as one of the Telegraph's best 50 books of 2017. As a festival director, teacher and advocate in the UK poetry scene she wears many hats, so we're very happy she's thrown one of them into the ring of comics writing! She is joined by series colourist Sofie, who is a wearer of many professional creative hats herself, including art direction and theatrical set & costume design, as well as past colour credits on titles such as Bitter Root and Tank Girl.
Publisher Image describes Golden Rage as "Battle Royale meets The Golden Girls", an elevator pitch we can all get behind.
"In a world where older women who've been deemed useless to society are abandoned on an island, GOLDEN RAGE documents their golden years of making friends, baking dessert, and fighting to the death. Created by writer CHRISSY WILLIAMS (editor of DIE, THE WICKED + THE DIVINE), artist LAUREN KNIGHT (Buffy the Vampire Slayer), and colorist SOFIE DODGSON (BITTER ROOT, Tank Girl), this is the FIRST ISSUE of a brand-new five-issue miniseries."
Join Chrissy & Sofie right here on Wednesay 3rd August, 6-7pm, to get your copy of Golden Rage #1 signed! Can't make it but would like a signed copy? You can pre-order one for mail order or collection on our online store.
Keep up with any event news on the Facebook event page.