Posted by Andrew on 23rd Dec 2022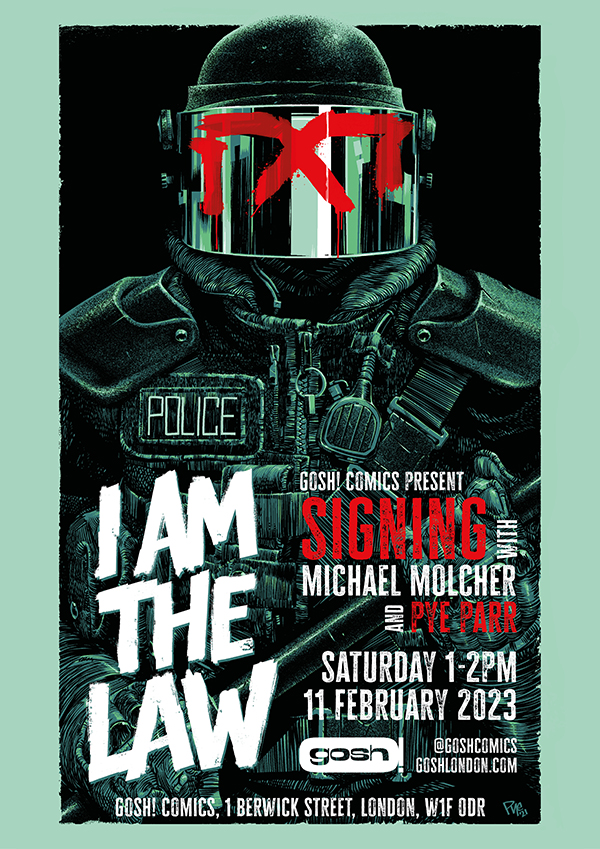 We'll have Michael Molcher and Pye Parr signing here on Saturday February 11th, 1-2pm, to celebrate the release of Michael's exciting new book I Am The Law: How Judge Dredd Predicted Our Future!
Michael is a stalwart of the British comics industry, a familiar face to anyone who has passed a 2000AD booth at conventions locally and abroad. An accomplished journalist, Michael regularly contributes features via Rebellion's various publishing channels, in print and online, and works as the Brand Manager for 2000AD. Who better then to dive deep into the predicitive power of that magazine's most beloved and influential strip: Judge Dredd?
I Am the Law is that deep dive, unpicking the satirical foresight that the strip's creators imbued in its pages, and how it's refelcted in the terrifying realities of policing in the 21st century. It's a fascinating read, featuring a striking cover by 2000AD and Judge Dredd Megazine head designer Pye Parr.
Here's the official info:
He is the law - and you better believe it! Judge, jury and executioner, Judge Dredd is the brutal comic book cop policing the chaotic future urban jungle of Mega-City One, created by John Wagner and Carlos Ezquerra and launching in the pages of 2000 AD in 1977. But what began as a sci-fi action comic quickly evolved into a searing satire on hard-line, militarised policing and 'law and order' politics, its endless inventiveness and ironic humour acting as a prophetic warning about our world today - and with important lessons for our future. Blending comic book history with contemporary radical theories on policing, I Am The Law takes key 'Dredd' stories from the last 45 years and demonstrates how they provide a unique wake up call about our gradual, and not so gradual, slide towards authoritarian policing. From the politicisation of policing to 'zero tolerance', from violent suppression of protest to the rise of the surveillance state, I Am The Law examines how a comic book warned us about the chilling endgame of today's 'law and order' politics.
Michael and Pye will be here to sign copies of I Am the Law on Saturday February 11th, 1-2pm. Can't make it but would like a signed copy? You can reserve a copy online for collection or mail order by clicking on this link.
Stay informed of any updates on the Facebook event page.