Posted by Will on 17th Sep 2022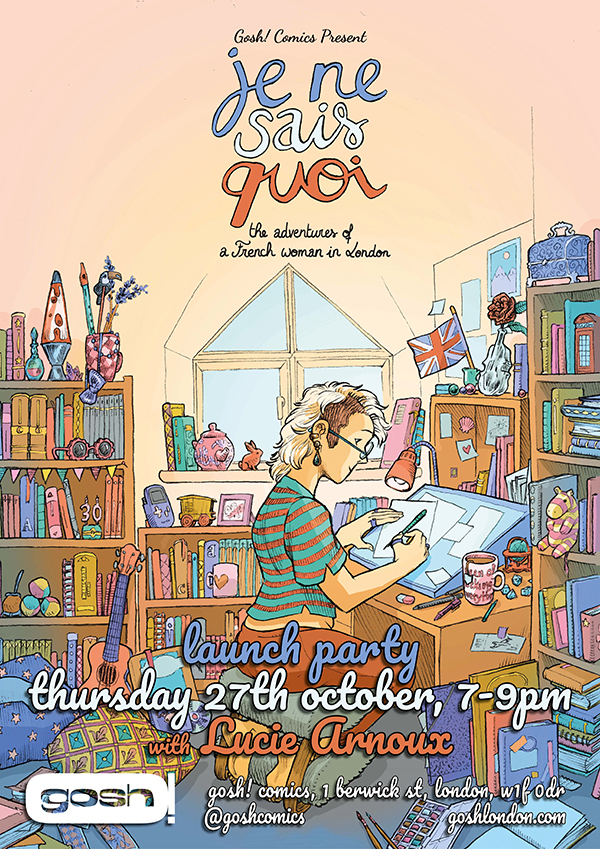 We're delighted to be joined by Lucie Arnoux for the launch of her new comic, Je Ne Sais Quoi, from Jonathan Cape. Lucie will be in the shop to launch the book on Thursday 27th October, from 7-9pm.

Lucie is an artist from France, living in London, who has illustrated a number of comics and children's books internationally. Her comics were featured reguarly in the french publication Lanfeust Magazine and has been an artist-in-residence for Sidmouth Folk Festival, Womad and the Rose Theatre. In her new comic, Je Ne Sais Quoi, Lucie accounts her time living in London in pursuit of a career in drawing, depicting an outsider's struggles and delights in experiencing a city she falls in love with. Here's some words from the publisher:

A funny, heartfelt graphic memoir about living in foreign countries, and finding one's place both at home and abroad.

In this delightful graphic novel, Lucie Arnoux chronicles her adventures around the world. Growing up in Marseille as a misfit with a passion for drawing, she falls in love with London on a school trip as a teenager before deciding to settle there as an adult and pursue her dream career as a comics writer. Je Ne Sais Quoi shows us London through the eyes of a spirited and clear-sighted young French woman as she navigates the joys and pains of being an outsider, bad dates and good friendships, the ups and downs of the creative life, ultimately learning how to live life to its fullest.

Come join Lucie on Thursday 27th October, from 7-9pm to celebrate this launch and pick up a signed copy of her new comic! You'll be able to pick up a signed copy of Je Ne Sais Quoi from our shop or on our website for mail-order or collection.

Keep up to date with any news over on our Facebook Event Page.