Posted by Andrew on 10th Jun 2021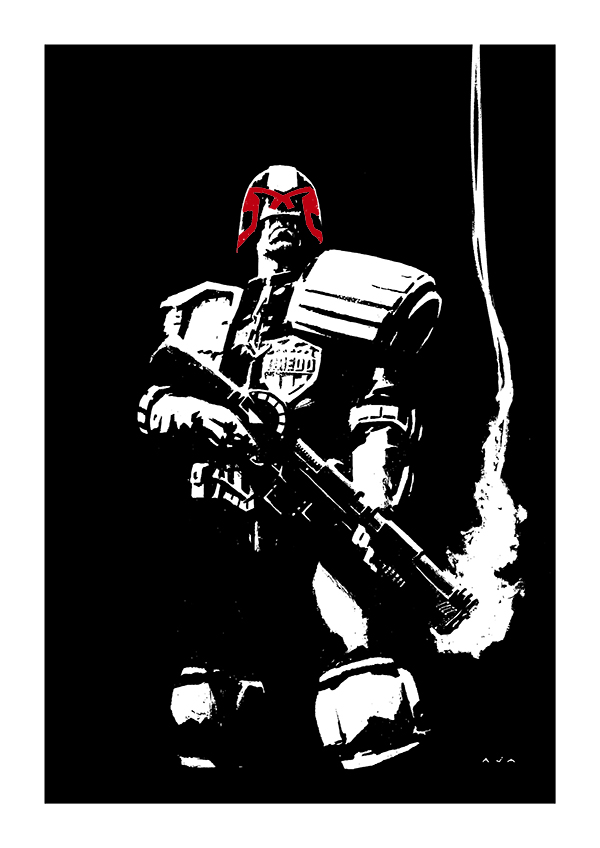 COMES WITH A CERTIFICATE OF AUTHENTICITY SIGNED BY DAVID AJA!
We're absolutely thrilled to be working with the good folks of 2000AD and the incredible David Aja to present an A3 print of David's Judge Dredd "Smoking Gun" image, originally produced to celebrate Old Stoneyface's 40th anniversary!
Spanish artist David Aja first came onto our radar with his work on Matt Fraction and Ed Brubaker's Immortal Iron Fist series, an immediately impressive talent. Even with that, we weren't prepared for his and Fraction's Hawkeye, a series that still stands as one of the best things Marvel has published in the modern era. He's since typically impressed with his work on Seeds, a collaboration with Ann Nocenti produced through Karen Berger's Berger Books imprint at Dark Horse.
But what you might not know is that David is also a massive Judge Dredd fan, having grown up on the exploits of 2000AD's main man. A natural then for Rebellion to approach when it came to providing a variant cover for the 2000AD 40th Anniversary Special back in 2017. And boy he didn't disappoint, with a moody, iconic shot of Dredd that stands alongside the best.
We love it so much, in fact, that we've worked with Rebellion and David to produce a limited edition two colour A3 screen print of the image on 250gsm Gmund Bauhaus stock. There are only 300 of this stunning print, and each edition comes with a numbered certificate of authenticity, signed by David Aja, for just £25
You can now pre-order the print from our webstore for mail order or in-store collection for an on-sale date of Wednesday 16th June 2021. So what are you waiting for, punk? Order now!