Posted by Andrew on 5th Oct 2022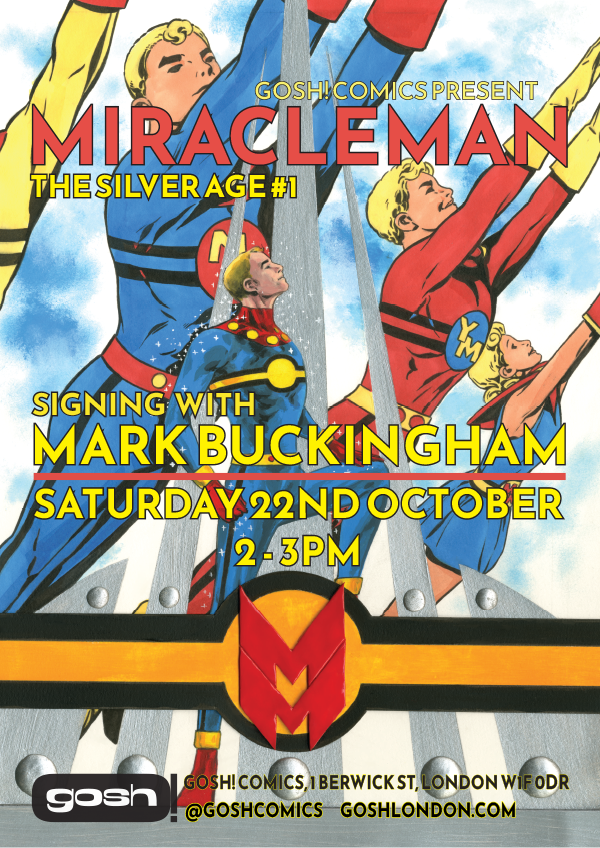 Miracleman is back! Nearly 30 years since the publication of Neil Gaiman and Mark Buckingham's last issue of the groundbreaking title, Miracleman The Silver Age returns, beginning again with a redrawn first issue. And we're honoured to be able to celebrate that release with an exclusive signing with Mark Buckingham on October 22nd, 2-3pm!
Waaay back in 1990, Neil Gaiman and Mark Buckingham took the reigns of Miracleman, Alan Moore's groundbreaking revisionist superhero saga. The intention was to create a three-book story consisting of three ages: The Golden Age, The Silver Age and The Dark Age. The Golden Age was successfully completed, filled with Gaiman's trademark lyricism and showcasing the impressive versatility of Buckingham. The Silver Age began in 1992 with issue #23, but only two issues were released before publisher Eclipse folded. Thus began a 30 year saga of rights issues and other such dramas, until Marvel Comics finally settled all outstanding legal issues and bought full ownership of the character. Marvel then began republishing the existing material in 2014, going through all of the Moore material, and then republishing Gaiman & Buckingham's Golden Age (with the latter remastering the art). Then, for various reasons, things took quite a break and we were left to wonder whether we'd ever see the completion of the story.
Well, the wait is over! Gaiman & Buckingham are back, and Mark has totally redrawn the first two issues of the Silver Age, utilising all that he's learnt in the intervening 30 years and ensuring a continuity of style as we - you better believe it - at long last finish the saga of Miracleman that was started all those years ago! Talk about closure! Here's the Marvel blurb:
"Neil Gaiman and Mark Buckingham's unfinished storyline "The Silver Age" begins! Young Miracleman - the lost member of the Miracleman Family - is back! His last memories were of a 1963 world of joy and innocence. Now, he's been thrust into the 21st century, where his best friends have become gods and monsters. Remastered with stunning new artwork by Mark Buckingham! Including material originally presented in MIRACLEMAN (1985) #23, plus bonus content."
Mark is of course a UK comics legend, with work on everything from Spider-Man to Sandman, not to mention of course his groundbreaking (and recently resumed) run on Fables with Bill Willingham. We're thrilled to be able to celebrate this exciting occasion with a signing of Miracleman The Silver Age #1 on October 22nd, 2-3pm! You'll be kicking yourself if you miss this one!
Can't make it but would like a copy signed? You can pre-order a signed copy of the comic on our webstore.
Keep in the loop with any updates on the Facebook event page.