Posted by Andrew on 18th Jul 2022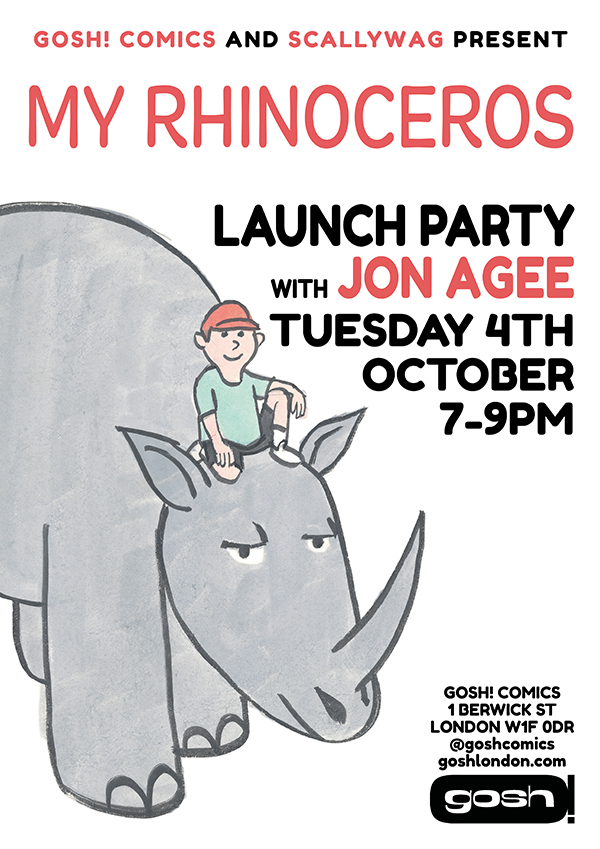 Multi-award winning writer and illustrator Jon Agee returns to Gosh! to celebrate the release of the new edition of My Rhinoceros! Jon will be here on Tuesday 4th October, 7-9pm, to sign, have a drink and meet his many fans.
Perhaps best known to many now for his stunning 2018 book The Wall in the Middle of the Book, San Francisco-based Jon has been creating wonderful picturebooks for 40 years with his distinctive mix of bold linework and beautiful watercolours. My Rhinoceros (winner of the Oppenheim Toy Portfolio Book Award and Parents Choice Silver Award & on the Newsday Best of 2011 list) is now being published in the UK by Scallywag Press, who describe the book thusly:
"If you should ever get a rhinoceros for a pet, you're in for a surprise. It won't chase a ball. Or a stick. Or a frisbee. In fact, according to the experts, a rhinoceros does only two things: pop balloons and poke holes in kites. But don't be discouraged. As you'll discover in this book, rhinoceroses can do more—so much more— than that!"
Jon will be here signing copies of his books and raising a glass to My Rhinoceros on Tuesday 4th October, 7-9pm. If you can't make it but would like to buy a copy for mail order or collection, head on over to our online store.
Keep up with any event news on the Facebook event page.