Posted by Will on 12th Feb 2023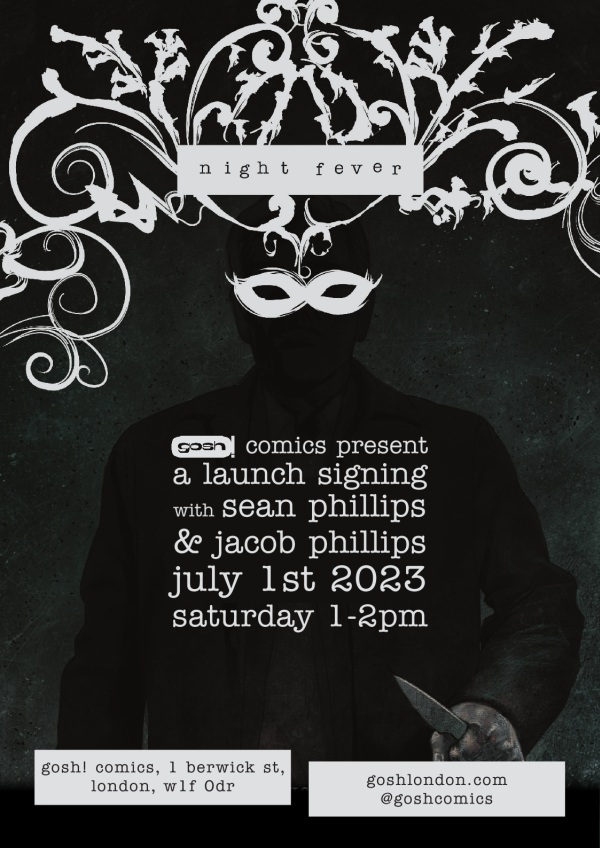 They're back! The award winning team of Sean Phillips and Ed Brubaker return with a brand new disturbing tale, Night Fever, from Image Comics. Artist Sean Phillips and colourist Jacob Phillips will be joining us for a signing to celebrate the launch of our exclusive bookplate edition on Saturday 1st July 2023, from 1-2pm.

Criminal. Fatale. Pulp. Brubacker and Phillips continue to produce hit after hit! Their latest thriller sees Jonthan Webb face his demons after a night of indulgence. Here's some words from the publisher, Image Comics:

A gripping new original graphic novel from ED BRUBAKER & SEAN PHILLIPS, the bestselling creators of PULP, RECKLESS, CRIMINAL, and KILL OR BE KILLED. Who are you, really? Are you the things you do, or are you the person inside your mind? In Europe on a business trip, Jonathan Webb can't sleep. Instead, he finds himself wandering the night in a strange foreign city with his new friend, the mysterious and violent Rainer, as his guide. Rainer shows Jonathan the hidden world of the night, a world without rules or limits. But when the fun turns dangerous, Jonathan may find himself trapped in the dark—the question is, what will he do to get home? NIGHT FEVER is a pulse-pounding Jekyll-and-Hyde noir thriller about a man facing the darkness inside himself. This riveting tour of the night is a must-have for all BRUBAKER & PHILLIPS fans!

Sean and Jacob will be here on Saturday 1st July 2023, from 1-2pm. To pre-order the bookplate edition from our website, follow the link here.

Keep up to date with any updates over on our Facebook event page.