Posted by Will on 18th Mar 2023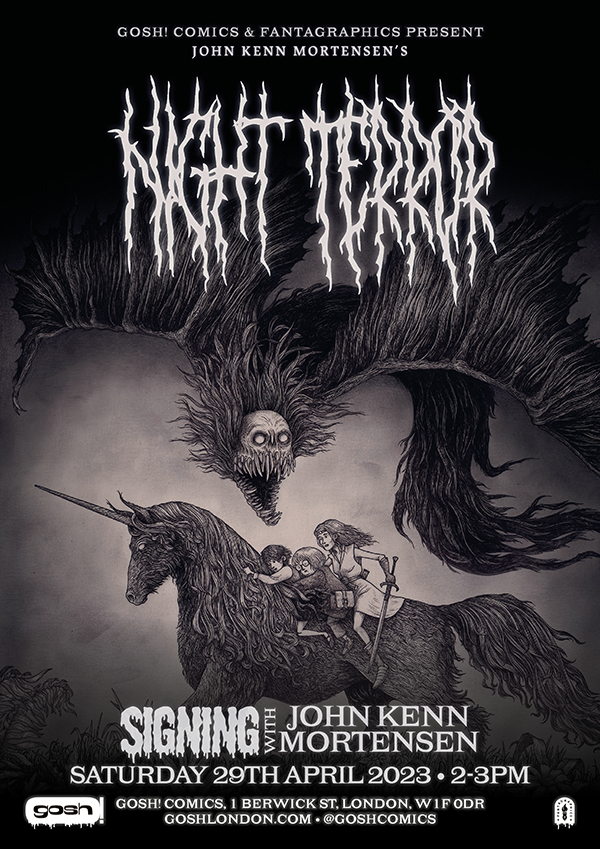 We are so excited (and appropriately terrified) for John Kenn Mortensen's newest collection of creepy critters, Night Terror, from Fantagraphics. We've got John travelling from his home in Copenhagen to join us for a special signing celebrating the launch on Saturday 29th April, from 2-3pm. In addition, we'll have an exclusive mini print to accompany the book, as well as a magnificient A3 print to join our family of prints!

These highly imaginative pen-and-ink drawings are hauntingly delightful and we can't wait to get our hands on it. The A3 print features a beautiful landscape illustration from the pages of the book, perfect to hang up in your home and unnerve your guests. Here are some words from Fantagraphics about this chilling assembly of creatures:

Reminiscent of Edward Gorey and Bernie Wrightson, a collection of spine-chilling line drawings of the creatures that haunt our dreams when night falls.

When the sun goes down, our minds invent all manner of horrors that may lurk in the darkness. Danish cult illustrator John Kenn Mortensen draws inspiration from this shadowy realm, and his pen skillfully conjures these eerie visions on paper. Open this book (if you dare) to encounter a frightful horde of sepia-toned spooks — witches, wraiths, goblins, giant spiders, wild boars, evil clowns — and countless other unspeakable creatures. Hairy, hooded, or horned, they peer at you ominously through dead eyes, their fangs bared.

By turns playful, wicked, stunningly imaginative, and masterfully rendered, the compositions in Night Terror are like a combination of Edward Gorey and Bernie Wrightson — and the monsters themselves are as formidable and menacing as those that a Witcher might hunt down. A deliciously creepy collection of pen-and-ink drawings for those who find themselves beguiled by the things that go bump in the night.

John will be signing at the shop on Saturday 29th April, from 2-3pm. You can also pick up a signed edition of the book and our exclusive print from our website, available for both collection and mail-order here.

Keep up to date with any updates over on our Facebook event page.