Posted by Will on 3rd Sep 2022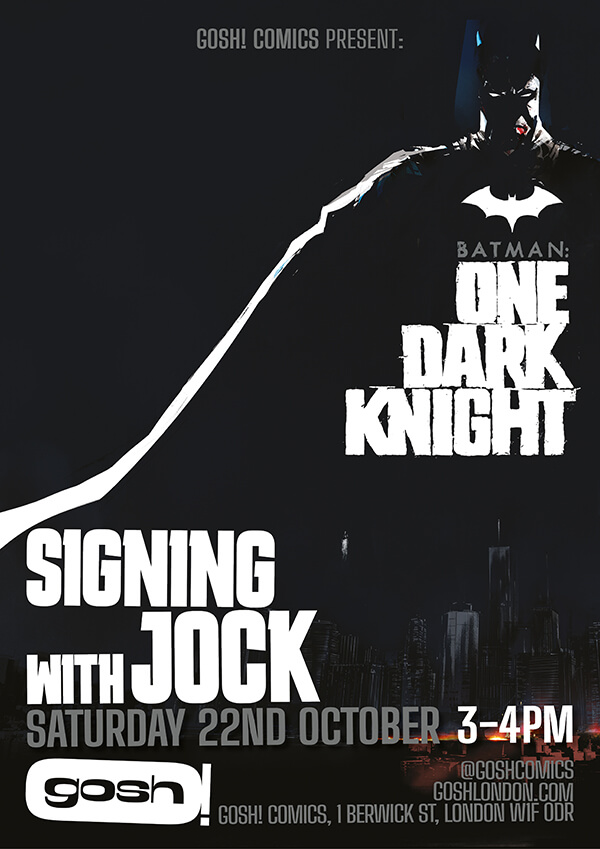 To mark the release of the new DC Black Label series, ONE DARK KNIGHT, we're excited to have the one and only Jock in the shop! Jock will be signing copies of the collected edition on Saturday 22nd October, from 3-4pm.

Jock is no stranger to the caped crusader and bat fans will recognise his amazing work on other Batman titles such as The Black Mirror and The Batman Who Laughs. Written and drawn by Jock, One Dark Knight has Batman face one of his worst nights in Gotham, as he tries to escort a villain to Blackgate prison during a city-wide blackout. You don't want to miss this thrilling new Batman adventure and what better way to experience it than to meet its creator and grab a signed copy! Here's some words from the publisher:

When a simple GCPD escort goes sideways, Batman finds himself on the wrong end of Gotham City in the middle of a heat wave with a super-villain in tow. Follow Batman as he traverses block by block across a pitch dark Gotham City while dragging a highly difficult E.M.P. to his permanent home at Blackgate Prison. The dark corners of Gotham City contain many surprises…and E.M.P. plans to deliver many more shocks before the night is through!

Head down to the shop on Saturday 22nd October from 3-4pm to get a copy signed and say hi to Jock! You'll be able to pick up a signed copy of the comic from our website if you're unable to make the signing by clicking here.

Keep up to date with any updates on our Facebook event page.