Posted by Will on 16th Sep 2023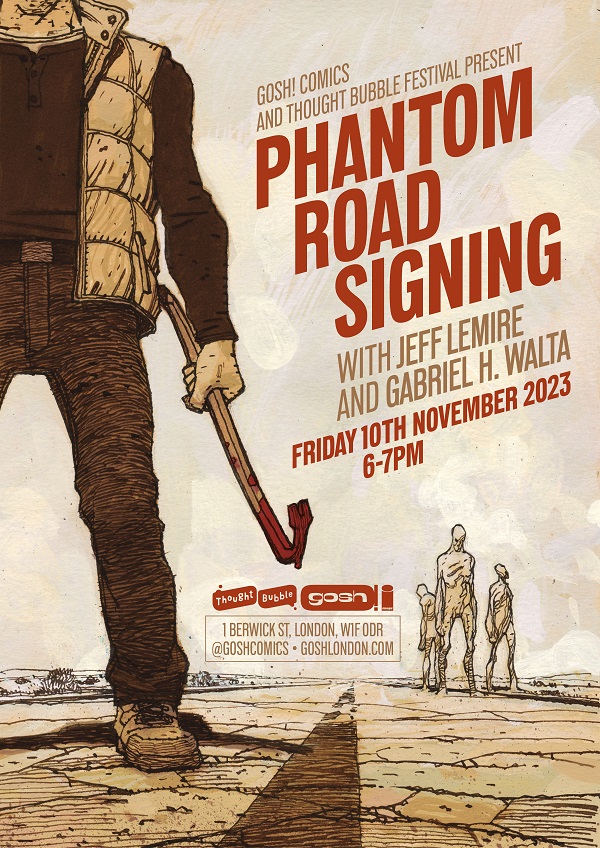 In collaboration with Thought Bubble Comic Art Festival, we're bringing Jeff Lemire and Gabriel Hernádez Walta over for a very special signing, focussing on Phantom Road, their supernatural horror-fantasy from Image Comics. Join the pair on Friday 10th November 2023, from 6-7pm.

Legendary Jeff Lemire (Essex County, Sweet Tooth, Black Hammer) and Gabriel H. Walta (Vision, Hellboy and the B.P.R.D.) previously teamed up to create sci-fi horror Sentient back in 2019. It was a perfect match and we're elated to seem the partner up again. Here's some words from the publisher:

Mad Max: Fury Road meets The Sandman in this high-octane adventure wrapped in a dark fantasy aesthetic.

Dom is a long-haul truck driver attempting to stay ahead of his tragic past. When he stops one night to assist Birdie, who has been in a massive car crash, they pull an artifact from the wreckage that throws their lives into fifth gear. Suddenly, a typical midnight run has become a frantic journey through a surreal world where Dom and Birdie find themselves the quarry of strange and impossible monsters.

It's grindhouse horror meets high-concept supernatural fantasy in the first volume of a bold new series from JEFF LEMIRE (THE BONE ORCHARD MYTHOS, LITTLE MONSTERS) and GABRIEL HERNÁNDEZ WALTA (The Vision, Hellboy and the B.P.R.D: Old Man Whittier), the Eisner Award-nominated creative team behind the bestselling Sentient series.

Visit the shop on Friday 10th November, from 6-7pm, to meet the duo and get some comics signed. You can also pre-order a signed copy of Phantom Road Volume 1 from our website for mail-order or collection by clicking the link here.

Keep up to date with any updates over on our Facebook event page.