Posted by Will on 24th Jun 2023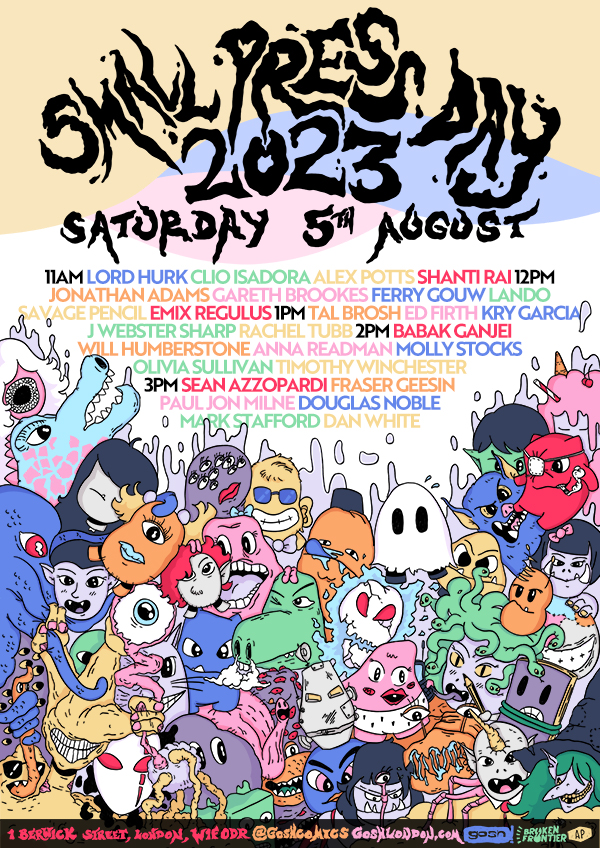 It's time to get ready for the years most exciting day in comics! Small Press Day is here! We've pulled out all the stops at Gosh! for this annual event to make it the best one yet. So join us on Saturday 5th August 2023 for a Small Press Day to remember.

Since it's inception back in 2016 (and thanks to Broken Frontier, Alternative Press and David Ziggy Greene), once a year, comic shops all across the country have been inviting independent and self-published comic creators to join them for a day of signings and festivities in celebration of the wonderful DIY comics scene. Small Press and self published comics have always been an integral part of the Gosh! Comics D.N.A and we're proud to share the extraordinary work of our talented friends.

This year at Gosh, we'll have several themed signings throughout the day with some of our favourite cartoonists! The rundown of the day is as follows:

From 11am-12pm, we have a special Avery Hill signing with Lord Hurk, Clio Isadora, Alex Potts and Shanti Rai.

Joining us from 12-1pm for a sci-fi themed signing will be Jonathan Adams, Gareth Brookes, Ferry Gouw, Lando, Savage Pencil and Emix Regulus.

From 1-2pm, we welcome some of Broken Frontier's current and former "6 to Watch" creators with Tal Brosh, Ed Firth, Kry García, J Webster Sharp and Rachel Tubb.

At 2-3pm, with us will be the phenomenal Babak Ganjei, Will Humberstone, Anna Readman, Molly Stocks, Olivia Sullivan and Timothy Winchester.

To end the day, our last signing from 3-4pm will have Sean Azzopardi, Fraser Geesin, Paul Jon Milne, Douglas Noble, Mark Stafford and Dan White.

Phew! We hope you're excited to celebrate Small Press Day 2023 with us! We absolutely cannot wait. Meet all the wonderful creators from 11am on Saturday 5th August.

Keep up to date with any updates over on our Facebook event page.