Posted by Will on 28th Jan 2023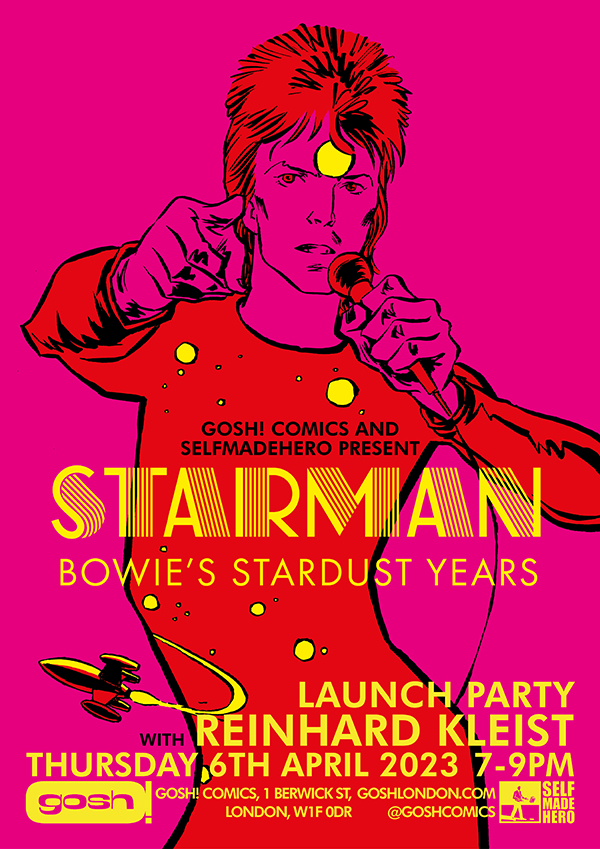 We're very excited to welcome Reinhard Kleist to the shop launching Starman: Bowie's Stardust Years from SelfMadeHero. Reinhard will be launching his new comic about the life of iconic David Bowie on Thursday 6th April 2023, 7-9pm.

Kleist is a Berlin based illustrator and comic artist who has previously delved into the illustrated biopics of other musicans such as Nick Cave (Nick Cave: Mercy on Me) and Johnny Cash (Cash: I See a Darkness), cementing him as the man for the job when it comes to tackling the influential pop god, Bowie. Here's some words from the publisher:

In 1972, the rock'n'roll messiah ZIGGY STARDUST was born. His provocative play on sexual identity and gender roles laid the foundation for David Bowie's ascent to becoming one of the most successful pop musicians of all time.

Reinhard Kleist's STARMAN weaves the gripping tale of this outrageous character's genesis, rise, and fall, as well as of David Bowie's hapless efforts in the London music scene before Ziggy's arrival, and of the struggles he experienced with his own creation at the height of his fame. As Bowie transforms himself, ever more frenetically, into the egocentric rock star he first conceived, the extravagant lifestyle he had only ever imagined threatens to engulf him, and bring everything down before his eyes…

[This publication has not been prepared, approved, authorized or licensed by the David Bowie estate or any related entity.]

We're joined by Reinhard Kleist on the Thursday 6th April 2023 from 7-9pm. If you can't make the launch party, then you'll be able to grab a signed copy of Starman from our website here.

Keep up to date with any updates on our Facebook Event Page.