Posted by Andrew on 20th Jun 2022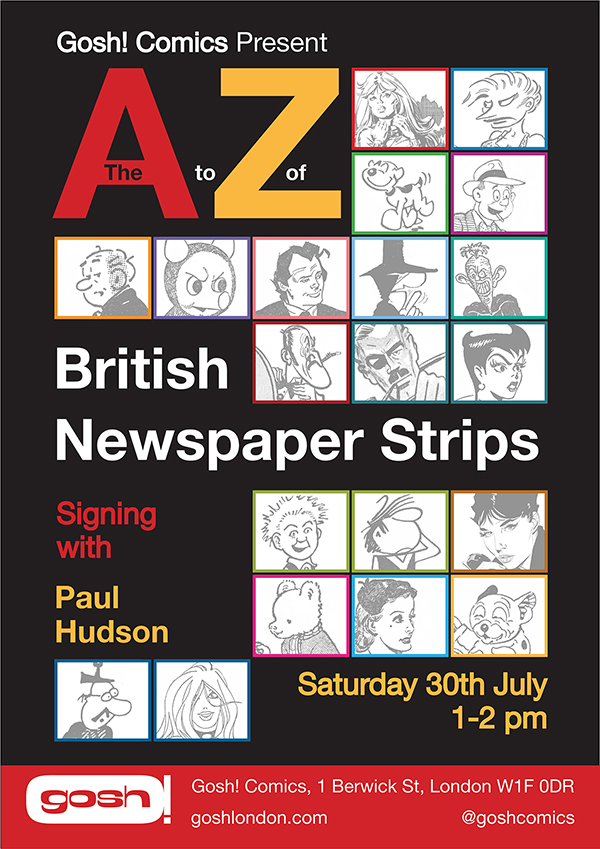 Paul Hudson, former owner of the much-beloved and sorely missed Comics Showcase, is releasing a concise and expansive book covering the world of British newspaper cartoons, The A to Z of British Newspaper Strips. To celebrate it's release, we will be welcoming Paul to the shop for a signing on Saturday 30th July, from 1-2pm.
Publisher, The Book Palace, has a few words about the book:
This extensive and comprehensive guide to the long and distinguished career of the British Newspaper Strip lists hundreds of newspaper strips printed in Britain over the last century. Written by Paul Hudson, former owner of the much-missed London comic shop Comic Showcase, this upcoming title is the product of more than two years of assiduous research and is a wonderful reference to a cherished part of British daily life and culture. The book has over 680 entries and features favorites such as Andy Capp, Axa, James Bond, Bristow, Flook, Fred Bassett, Garth, George and Lynne, Jeff Hawke, Modesty Blaise, The Perishers, Pip, Squeak and Wilfred, Rupert Bear, Tamara Drewe, and Varoomshka, plus many, many more!
Each strip is credited with dates, creators and descriptions as well as sample illustrations
Have a chat with Paul and get your copy of the book signed on Saturday 30th July between 1-2pm.
Book Palace have also kindly provided us with a signed and numbered bookplate for our copies, limited to an edition of just 100!
Don't worry if you can't make the day of the signing! You'll be able to pre-order a signed copy from our website, ready for collection or for mail order.
Set yourself a reminder for the event and keep up to date with any updates on the Facebook event page.