Posted by Will on 25th Mar 2023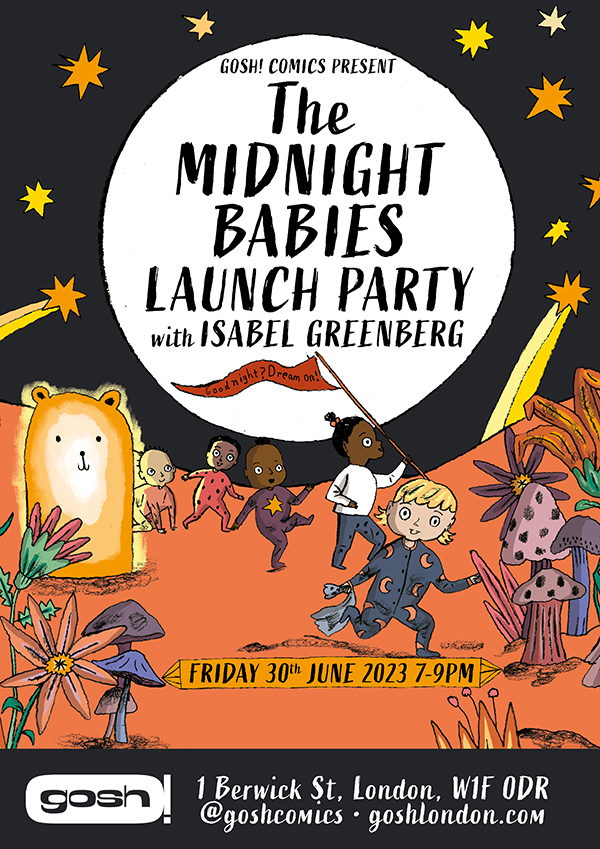 Catch some ZZZs with us and Isabel Greenberg to celebrate the release of her newest children's book, The Midnight Babies, on Friday 30th June 2023, from 7-9pm. Isabel is an award-winning comic artist who is very much treasured here at Gosh! with previous best-selling titles such as The Encyclopedia of Early Earth and The Glass Town. Here's what the publisher of her newest book, Abrams, have to say about it:

In this fantastical bedtime adventure, babies from far and wide join forces to defy their ultimate nighttime nemesis: sleep!

The babies have come from far and wide, crawling and walking and toddling and tumbling.
These are the can't-sleep babies, the won't-sleep babies, the itchy-feet babies, the just-one-more-story-please babies.
"Sleep! Sleep! Anywhere but Sleep!!!" sing the babies.
And the quest of the Midnight Babies begins!

Babies arise! In an epic quest to stay awake, the Midnight Babies must overcome sleepy temptation: battling the forces of Slumberland, venturing through the Forest of Nightlights and the Sea of Stories, voyaging through the Garden of Lullabies to the Rockabye River, and even through the dreaded Land of Nodoff. But can they resist their greatest challenge: the Cuddle?

Bestselling author-illustrator Isabel Greenberg turns bedtime on its head with a hilarious, delightful odyssey that will resonate with wide-eyed little ones and sleep-deprived parents alike!

Join us on Friday 30th June, from 7-9pm to celebrate the launch of Midnight Babies! If you can't make the event, then don't lose any sleep over it! You can pre-order a signed copy of Isabel's new book from our website for collection or mail order by clicking here.

Keep up to date with any updates over on our Facebook event page.