Posted by Andrew on 23rd Dec 2022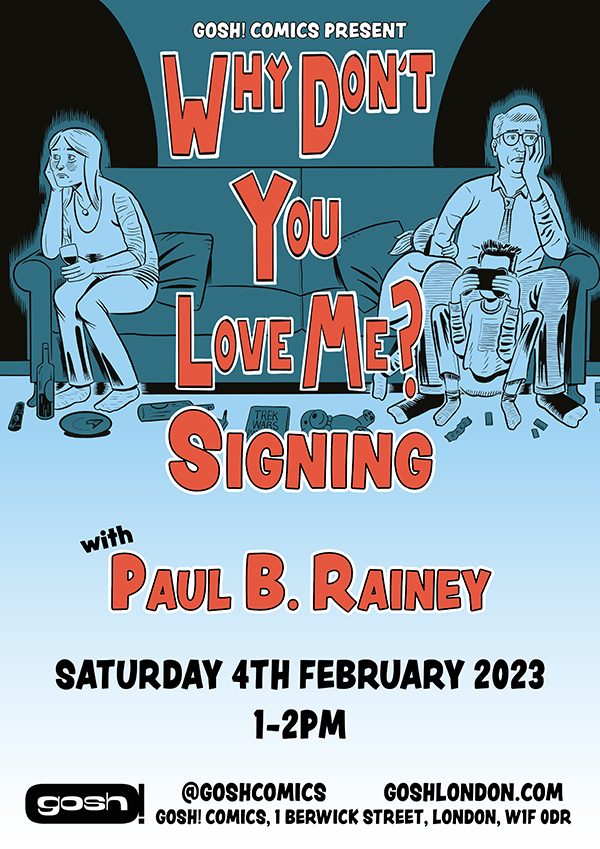 Paul B. Rainey, a pillar of UK self-publishing, will be here to sign copies of his new Drawn & Quarterly graphic novel Why Don't You Love Me on Saturday February 4th, 1-2pm!
Paul has been a fixture of the UK self-publishing scene for decades, notably with his serialised science fiction story There's No Time Like the Present (eventually collected by Escape Books). His grip on narrative and character while fusing the fantastic with the everyday distinguishes him from so much self-published work that is produced. It's great to see his dark, sci-fi tinged comedy drama - originally serialised in Aces Weekly - collected by a publisher with the profile of Drawn & Quarterly, at last giving him the exposure he's so long deserved.
D&Q have this to say:
A couple struggles through their unhappy marriage in this dark science-fiction comedy.
Claire and Mark are in the doldrums of an unhappy marriage. She doesn't get out of her bathrobe and chain-smokes while slumped on the couch. Mark has lost track of the days and can't get the kids to school on time. They've lost interest in family and order-in pizza and chinese food every night. Mark sleeps on the couch and has trouble remembering his son's name. He feels like a fraud at work but somehow succeeds. Claire stalks an ex-boyfriend. How could he have left her to this life?
Claire and Mark are both plagued by the idea that this is all a dream. Didn't they have different lives? When reports of an imminent nuclear war come on the radio, the truth begins to dawn on them: this is not the life they chose.
Why Don't You Love Me? is a pitch-black comedy about marriage, alcoholism, depression, and mourning lost opportunities. Paul B. Rainey has created a hilariously terrifying alternate reality where confusion and pain might lead people to make bad choices but also eventually freedom…maybe..
Come down and meet Paul, and get a copy of Why Don't You Love Me signed while you're at it! He'll be here 1-2pm, Saturday February 4th. Can't make it but would like to buy a copy for mail order or collection? You can pre-order on our webstore by clicking here.
Stay informed of any updates on the Facebook event page.